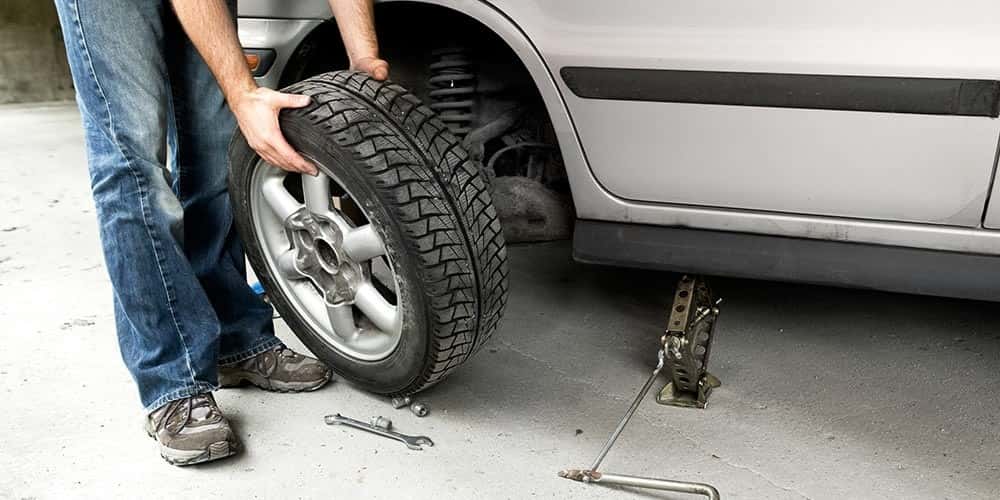 Whether you're preparing for the future or you're looking this up on the go, finding out where to place the jack to change a tire is important as a vehicle owner. Placing the jack in the right place is integral to your safety as well as a successful installation of your spare tire, so learn just where to place the jack below. Or if you'd rather leave it up to the professionals, bring your vehicle into Findlay Toyota for some fresh new tires!
Changing Your Own Tire
Nobody likes to, but sometimes we have to change our own tire when we get a flat on the go in the Las Vegas area. Here's a breakdown of the steps to changing your tire.
After you've put your parking brake on while you're in a secure location away from oncoming traffic, you'll want to place a heavy object, such as a cinder block, in front of the tires.
Next, place the jack on the underside of the vehicle near the affected tire. The jack should fit onto the vehicle's body and wedge perfectly without lifting the vehicle until you raise the jack.
You'll raise the tire about 6 inches off the ground before loosening the wheel nuts by turning then counterclockwise with your vehicle's included wrench.
You'll then be able to swap the tire with your spare and secure the lug nuts tightly back in place before lowering the vehicle and making your way to a service center.
Utilize Our Superior Service Center
We have trusted and skilled technicians standing by to inspect your tires and replace them in a timely manner at Findlay Toyota. We keep many sizes in stock, and we'll make sure you get the best deal possible. We can also check your brakes, perform balancing, and attend to all needed maintenance, so stop by or schedule an appointment at our service facility today!
Take Care of Your Tires at Findlay Toyota
Whether you need new tires or another repair on your vehicle, schedule your service today at Findlay Toyota. You'll find our service facilities at [di_dealer_option street_address=""] in [di_dealer_option city=""], serving the greater Las Vegas area. To speak with our service team, call us at [di_option option="di_phone_sales"]. You can also schedule a service appointment online. We can also reach out to you with answers to your questions when you fill out our online contact form!