2017 Toyota Prius Tech Highlights

If you've had your mind on getting a fuel-efficient hybrid vehicle, the 2017 Toyota Prius has probably come to mind. While many shoppers in the Boulder City area turn to the Prius for its accessible price, fuel efficiency, and versatility, it comes as a welcome surprise to some that the Prius is also incredibly well equipped with advanced technology features like an Entune infotainment system, a Head-Up Display (HUD), a wireless smartphone charging station, and advanced parking assistance. Do some more research, and then come check it out at Findlay Toyota—your Pahrump area Toyota dealer.
Entune Premium Audio
Enjoy advanced entertainment and convenience features with the Entune Premium Audio with Integrated Navigation and App Suite. Projecting available features on a seven-inch color touchscreen interface, you'll have access to features like Yelp, Facebook, iHeart Radio, Pandora, and turn-by-turn navigation. You can also upgrade the system so that you can enjoy your favorite music and radio programs on a JBL Premium Audio system.
Color Head-Up Display
If you opt for the Advanced Technology package on the Prius Three or Prius Four trim, then you'll get a premium color Head-Up Display (HUD). This translucent display is projected directly onto the windshield above the gauge cluster at the bottom of the driver's direct line of vision. With this feature, you'll be able to keep your eyes on the road while getting access to important information like your Hybrid System Indicator, your current speed, and the next turn to take via the navigation system.
Wireless Smartphone Charging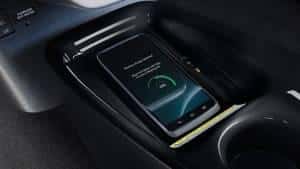 You won't have to worry about dealing with cluttered, tangled up cords anymore when you get your Toyota Prius equipped with the available Qi-compatible wireless smartphone charging station. Simply place you phone on this non-slip surface under the center stack near the center console and your compatible smartphone or other smart device will charge automatically.
Advanced Parking Assistance
Parking is made significantly easier thanks to the enhanced parking support system on the Toyota Prius. Using Intelligence Clearance Sonar (ICS), the system is able to scan the area for still object and react by sounding an alarm and automatically braking if necessary. Additionally, Intelligent Parking Assist (IPA) is able to take over steering for you and automatically guide your vehicle into a parking spot.
Get Convenience and Entertainment from the 2017 Toyota Prius Tech
When you're ready for a fuel-efficient hybrid that's stacked with the modern technologies you want, come check out the new Toyota Prius at Findlay Toyota. It's easy to find our dealership at 7733 Eastgate Rd in Henderson, NV, where you'll find our sales team standing by to help you out Monday through Saturday from 8:00 a.m. – 10:00 p.m. If you have any questions about the new Prius or our dealership, feel free to get in touch at (702) 487-4339.