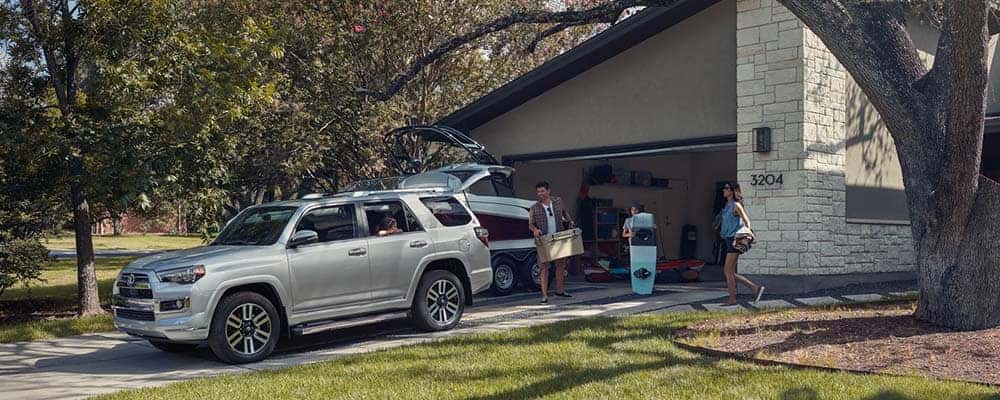 If our customers are any indication, there's lots of towing to be done around these parts. Whether it's towing a work trailer around %%target_city_1%% or pulling a camper on the weekends, a sturdy SUV with a strong tow hitch comes in handy. Maybe that's why the Toyota 4Runner towing capacity has impressed so many car buyers who have visited our showroom. This powerful SUV can handle most towing. You can see the new Toyota 4Runner for yourself at %%di_name%%. But in the meantime, let's talk about how much a Toyota 4Runner can tow.
How Much Can a Toyota 4Runner Tow?
The Toyota 4Runner Towing capacity is an impressive 5,000 pounds. That's more than enough to pull a small boat or a couple of ATVs. It's nice to know you can tow what you need with ease while riding in style.
Specs that Impact the Toyota 4Runner Towing Capacity
There are multiple performance components that come together to create a vehicle with a powerful towing capacity. Here are some of the towing-related specs that how much a Toyota 4Runner can tow:
Engine - 4x4 4.0L V6
Drivetrain - Part-time 4WD with Active Traction Control (A-TRAC)
Horsepower - 270 hp
Torque - 278 lb-ft
Toyota 4Runner Towing Features
The 4Runner comes standard with an integrated towing hitch receiver and wiring harness with 4- and 7-pin connectors, so hooking up your trailer's brake and signal lights will be a breeze. The Lane Departure Alert feature becomes especially important when towing, as drifting into another lane could be disastrous. The same is true of the blind spot monitoring feature.
See the Toyota 4Runner at %%di_name%%!
There's more to this vehicle than the Toyota 4Runner towing capacity. You have got to see this cool SUV for yourself, so come in for a test drive. While you're here, you might as well check out our new vehicle specials. We make it easy for you to get behind the wheel of your next vehicle. You can even apply for financing online. We're just a short drive away from %%target_city_3%%. So drop by or contact us today!